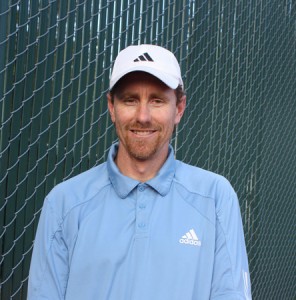 Brian Eagle co founded the Eagle Fustar Tennis program in 2002 alongside Nick Fustar with a mission to develop elite junior tennis players in Northern California by providing them the most professional and structured training possible. Eagle has helped grow Eagle Fustar to be the premier program in the Bay Area.
Eagle was a highly ranked National and Northern California junior. In fact, he was ranked #1 in the 12s and 14s for four consecutive years and was a winner of the prestigious Fiesta Bowl National tournament.
In his junior and senior collegiate seasons at UC Berkeley, Eagle played #1 and #2 singles and #1 doubles. Playing in the PAC 10 conference, he achieved high rankings of #34 in singles and #19 in doubles.
Eagle played professionally on the ATP Tour for 4 years. In that time, he won 7 professional doubles titles in the USA, Canada, and Mexico. He also traveled in Asia and spent considerable time in Europe where he had the honor of playing professional club tennis in Germany.
From 2001 – 05, Eagle was working with Stanford's #1 ranked player and professional Amber Liu. Amber captured the NCAA individual singles title in consecutive years and was an integral member of NCAA title teams.
Private Lesson Rate: Contact Katy for rate and availability.