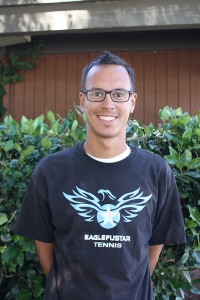 Max, a former student of the Eagle Fustar program, is a certified PTR Instructor. He is involved in Eagle Fustar's Full Time Program, as well as daily programs such as Champs and High Performance Clinics.
Max gained his start in coaching at Branham High School in 2007. Since then Max was an instructor at the Cupertino Sports Center, active in both their Recreation and Competitive clinics.
A native of Phoenix, AZ, Max was raised in the Bay Area and played for Archbishop Mitty High School, where he is currently the Junior Varsity coach. He is still active in Men's Open level USTA tournaments. Max's other interests are comic books and video games.
Private Lesson Rate: $90