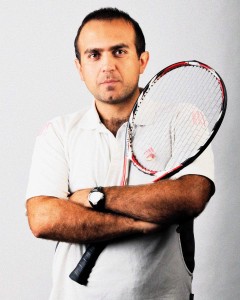 Mohammad Jafari, born and raised in Iran, has been working with Eagle Fustar since September 2008.
As a certified PTR professional, he will primarily be directing our Core Performance program (formerly Champs). Additionally, he is involved in Eagle Fustar's daily tennis programs including High Performance Clinics, adult group clinics and private lessons.
Mohammad brings a high degree of skill, energy and enthusiasm to his coaching. His focus on proper technique for both beginner and intermediate players combined with his philosophy of discipline & hard work creates an environment that encourages students to reach their highest potential.
Mohammad's other passions are soccer and flying. He is currently attending flight school in San Jose.
Private Lesson Rate: $100