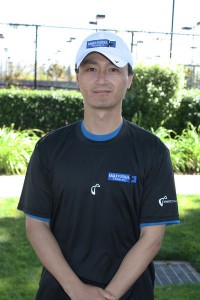 Tony Yang is a High Performance Coach at Eagle Fustar Tennis.  Since the Academy's inception in 2003, Tony has helped produce numerous nationally & sectionally ranked players and was recently invited to attend the USTA High Performance Coaching Program.  In addition to his coaching, Tony also heads up two key programs: Video Production & Analysis and the RTC ( Regional Training Center ) camps held at the Santa Clara University campus.  Along with coach John Togasaki, Tony utilizes Dartfish software technology to help analyze stroke production for our Fulltime program as well as some of our highly nationally ranked players.  Tony and John are also are in charge of the College Recruiting Video service, which has enabled many of our players to get noticed by college coaches during the recruiting process.  Tony has also served as a member of USTA Norcal's Coaching Commission.
Tony played college tennis at UC Berkeley, where he and Brian Eagle were teammates.  Tony played professionally briefly after his college career and trained with the Taiwan national team before obtaining his MBA at Willamette University, where he served as the Volunteer Assistant Coach.  Tony has continued to stay in tournament shape and was the #1 ranked Norcal player in 2008 in both the 30s and 35s.  He also took 5th place in the 2008 National Grass Courts 30s held at the Philadelphia Cricket Club.
Private Lesson Rate: Contact Katy for rate and availability.