 Eagle Fustar Tennis Academy
The Premier Tennis Academy in Northern California
WE ARE 

EAGLE FUSTAR TENNIS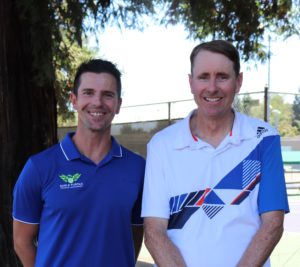 Founders, Nick Fustar & Brian Eagle
At Eagle Fustar, we proudly prepare our athletes for the highest level of competition possible in junior, collegiate and professional tennis. Founded in 2003 by former professionals Brian Eagle and Nick Fustar, Eagle Fustar Tennis Academy is the premier training academy in Northern California for over 350 serious junior and professional players. Centrally located in the beautiful Bay Area, we train in the heart of the lush and beautiful Silicon Valley, where the sun shines nearly 300 days each year.
Different players have different goals – whether a player aspires to join a high-level D1 program, A DIII program, attend a university of the highest academic regard, compete on the ATP, WTA and ITF tours, or a combination of those – Eagle Fustar knows how to get there. Our track record speaks for itself; every year Eagle Fustar boasts players that win titles at sectional, national, intercollegiate, international and professional levels. For more than a decade, we have been honored to see our players commit to the top athletic and academic universities.
Our daily training clinics, for beginners to national top-ranked ranked juniors, are held on the campuses of DeAnza College, West Valley College, Mission College, Sunnyvale Tennis Center, and Ohlone College in Fremont. Our renowned Full-time Program operates out of the beautiful Sunnyvale Tennis Center with 16 newly surfaced courts, pro-shop and café. We offer daily training clinics 364 days of the year, week-long camps, and private instruction from our impressive roster of coaches, which include former professional and D1 players.
The Eagle Fustar philosophy is low player to coach ratios, challenging drills with constant feedback, daily strategic point play, and very little to no idle time on the court. Our environment is challenging and driven by accountability, strength, and respect. We follow and track our students results in both USTA, ITF, and school tournament play. We encourage goal setting and push our students daily to achieve those goals, while understanding the level of commitment and the sacrifices it takes to be the best. We demand hard work, while preserving and encouraging the passion for a great sport that can be a lifetime activity. We train hard, but most importantly – by enforcing a passionate commitment to excellence – we produce players that bring their best, on and off the court, every day.