Announcements
Please double check schedule grid prior to coming out. And please refresh your browser.
GENERAL
FULL TIME PROGRAM (FTP)

Eagle Fustar's Full Time Program will now train at the Sunnyvale Tennis Center!
ELITE PERFORMANCE CLINICS (EPC)

EF Players may use their EF ELITE Flex Plan for clinics at the Sunnyvale Tennis Center (see schedule). It is simply another location for Elite clinics.
HIGH PERFORMANCE CLINICS (HPC)

High Performance is now also offered at the Sunnyvale Tennis Center (STC). HP clinics at the STC require their own EF/Sunnyvale Flex Plan (SFP) or drop in clinic fee that must be purchased online through the STC website. The STC HP clinics must be purchased and counted separately from the regular EF Flex Plans.
CORE PERFORMANCE CLINICS (CPC)

CORE Players – Sign up for C8 or C12 Great Rate for November plan and lock it in as long as you stay on one of them each month. You can move between them and keep their low rates!
C8 GREAT RATE $350.00 (must sign up for November plan to lock this rate) | C8 $395.00 regular rate
C12 GREAT RATE $475.00 (must sign up for November plan to lock this rate) | C12 $525.00 regular rate
PRE-CORE PERFORMANCE (PCP)

November 2019 Schedule
(To enlarge the schedule: Click on it, then on the next page click on it again to enlarge)
Orange
 = Core Performance Clinic (CPC)
Maroon
 = CPC Advanced –
INVITE ONLY
Blue
 = High Performance Clinic (HPC)
Black
 = Elite / HP Combo Clinic (EPC/HPC) –
INVITE ONLY
Green
 = Elite Performance Clinic (EPC) –
INVITE ONLY
Purple
 = UTR 8+  
For players with UTR of 8 or higher
WV = West Valley College
SCU = Santa Clara University
Mission C. = Mission College
STC = Sunnyvale Tennis Center
DA = De Anza College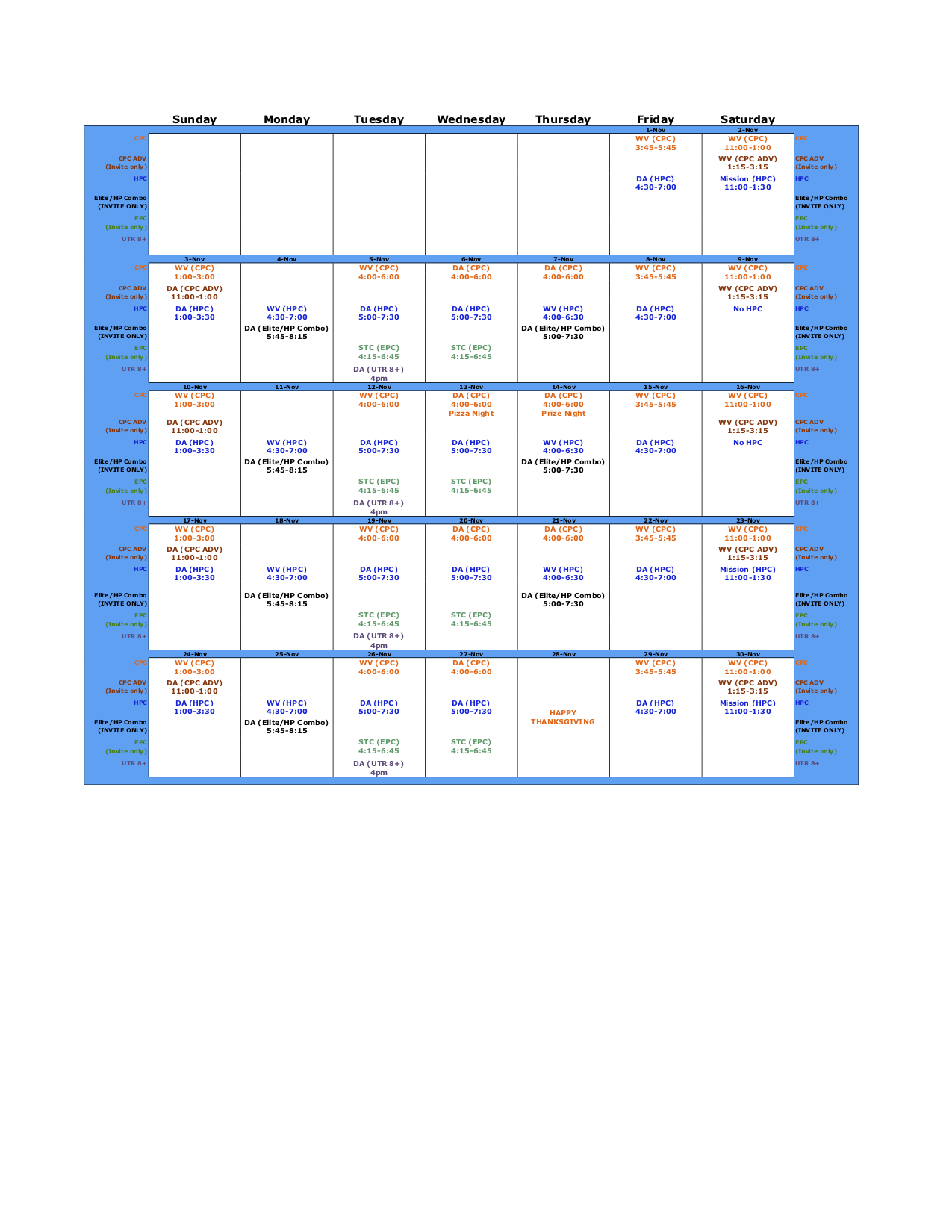 December 2019 Schedule
(To enlarge the schedule: Click on it, then on the next page click on it again to enlarge)
Orange
 = Core Performance Clinic (CPC)
Maroon
 = CPC Advanced –
INVITE ONLY
Blue
 = High Performance Clinic (HPC)
Black
 = Elite / HP Combo Clinic (EPC/HPC) –
INVITE ONLY
Green
 = Elite Performance Clinic (EPC) –
INVITE ONLY
Purple
 = UTR 8+  
For players with UTR of 8 or higher
WV = West Valley College
SCU = Santa Clara University
Mission C. = Mission College
STC = Sunnyvale Tennis Center
DA = De Anza College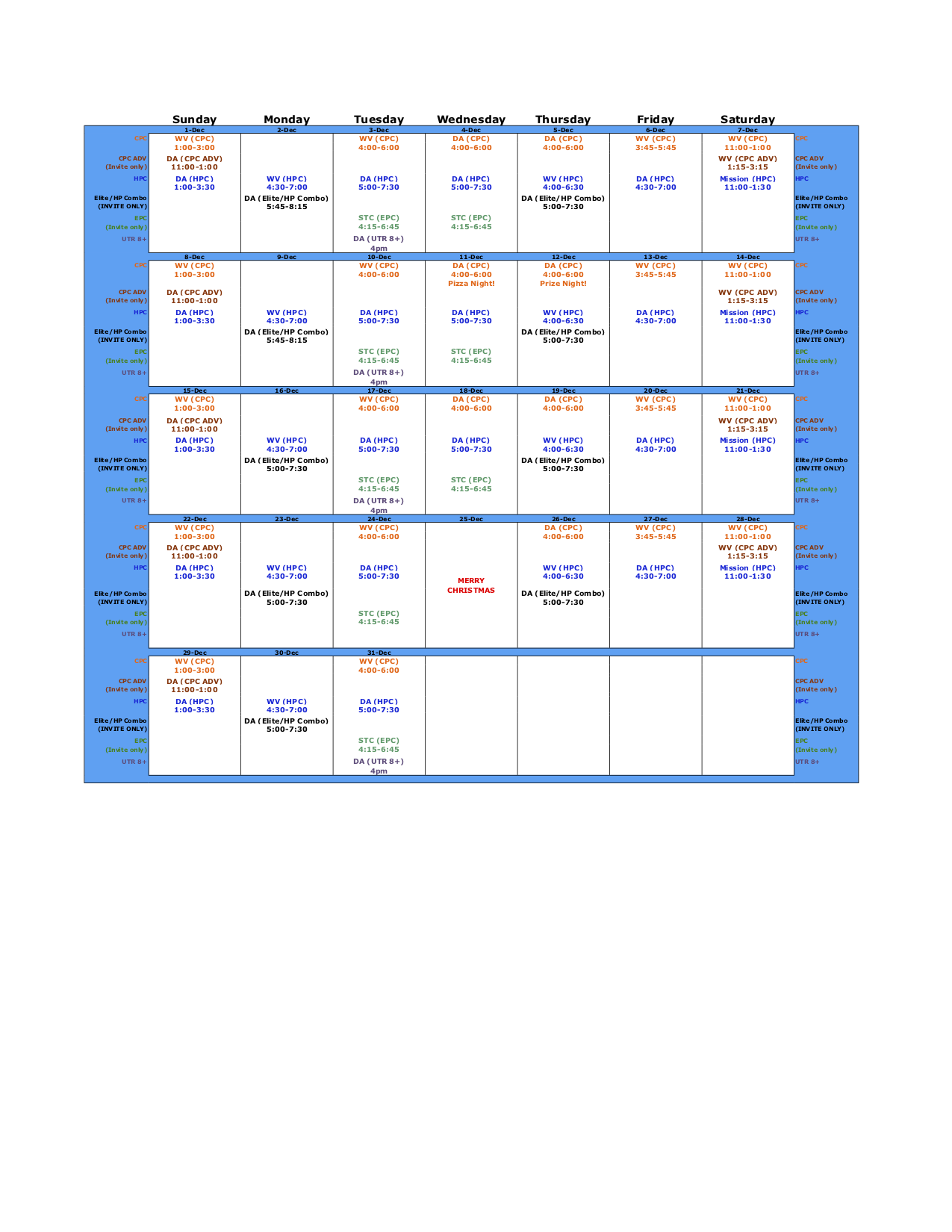 To sign up for our clinics, send an email to Katy by clicking on the button below